If you are anything like me, you need ZERO coaxing when it comes to staying at an ultra-chic, mid-century modern tropical oasis like The Beverly Hilton… I mean… c'mon my inner barbie-girl is #screaming. But for the rest of you, who may be adverse to cabana boys, endless champagne brunches, and poolside suites… I give you five wonderful reasons you have to stay at The Beverly Hilton.
Nothing says girls getaway more than plush robes, champagne, and floaties in the pool. The Beverly Hilton is the ultimate when it comes to the sweet details involved in a weekend with the ladies. Whether you post up by the pool in one of their cabanas or order bubbles to your room, they have everything you need to gab, gossip, and relax with your squad. The hotel is also very close to great shopping, restaurants and nightlife that is sure to keep your gal group happily entertained.
Looking for a place that caters to romance for your next vacay with Bae? They've got you covered.
From a private chauffeured driver, to custom chocolate truffles and champagne upon arrival no expense is spared to make your stay as intimate and relaxing as possible. Whether you are celebrating something special, have a wedding over the weekend, or just want a little r&r by the pool, there are plenty of ways to do it at this star-studded hotel.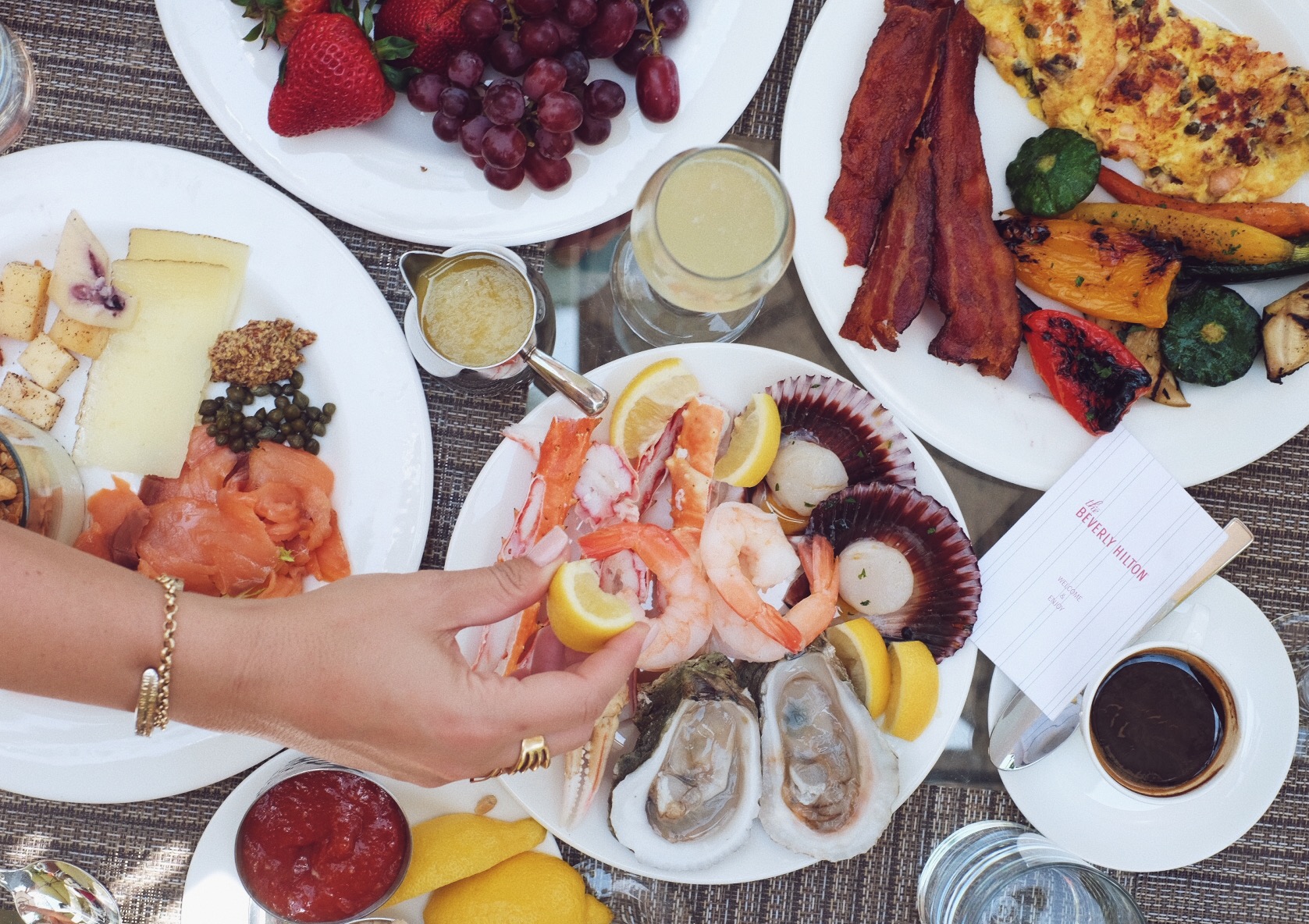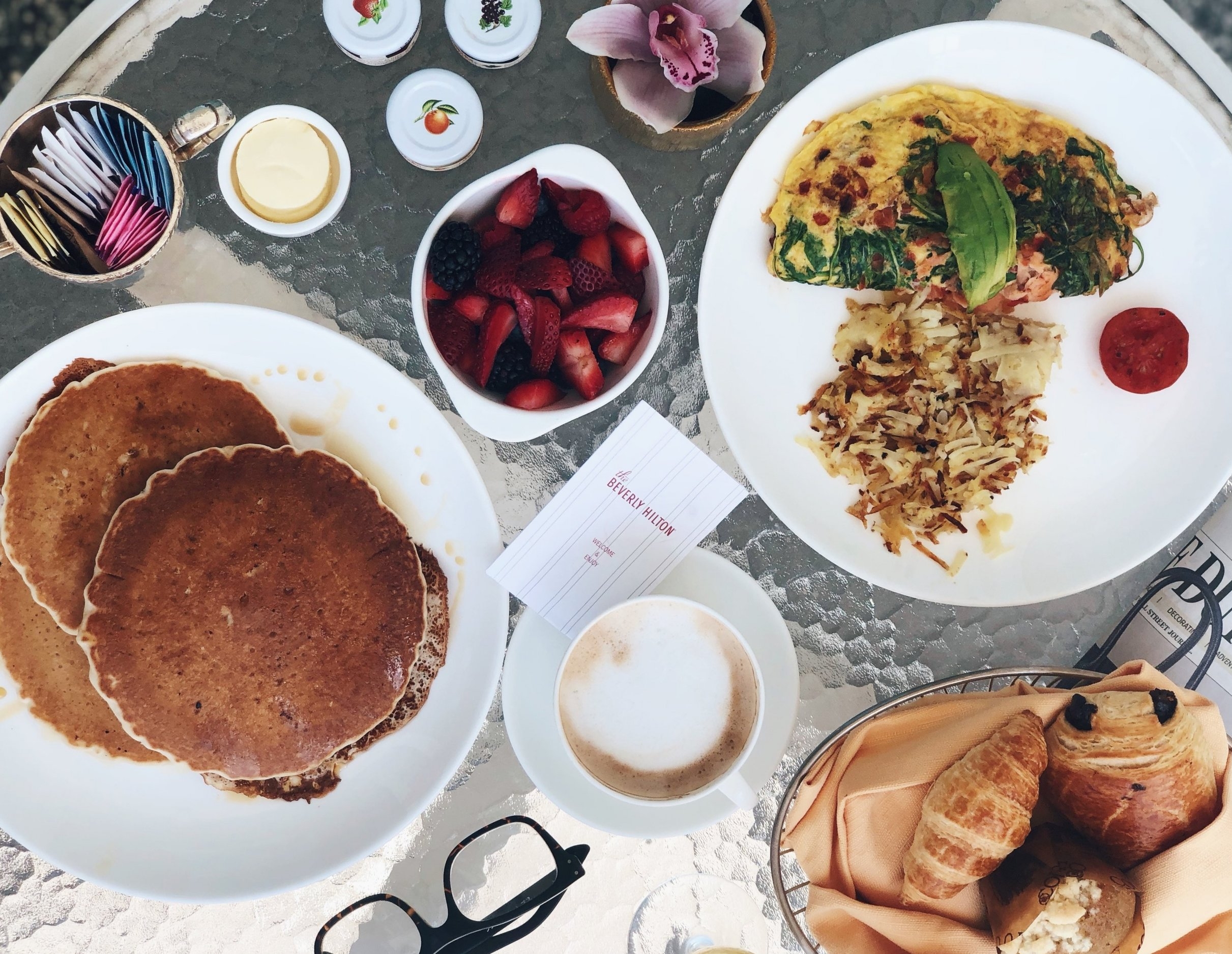 One of the most impressive elements of the Beverly Hilton is hands down their spread. From a wholesome room service menu for lazy mornings in bed, to endless champagne brunches and happy hour ceviches... lets just say their culinary game is on-fleek.
Their Sunday brunch buffet is outfitted with fresh seafood, including king crab and oysters, a grill station, breakfast staples (from Benedict's to buttermilk pancakes) and more dessert than you'll ever find enough room for. As if that's not enough the servers just keep the champagne a-flowing... bottomless mimosa solve almost any problem am I right?
The concierge at the hotel is also well equipped to recommend and score reservations at some of the finest restaurants not only in the area but over Los Angeles as a whole making this the perfect landing spot for the food-enthused.
The best part about staying at the BH when visiting on business? The second work is done you are in the perfect environment to let your hair down and have some fun. The hotel is also perfect for hosting business meetings, working remotely using their high-speed wifi, and is centrally located making your roster of appointments just a little more manageable.
The hotel also has conference rooms, a full service salon (who doesn't need a quick mani and a blowout before a meeting) and attentive staff willing to help with any request. If it has to be for work, why not make it fun?
Creating an environment that orchestrates the delicate balance between a lively scene and relaxing intimacy can typically be a challenging feat, yet the Beverly Hilton masters just that. This hotel is the perfect place for couples looking to catch a break from the real world, while still feeling social and catered to.
Adjoining poolside patio rooms create a vibe that is laid back but still connected to the energy. Dine together at the restaurant Circa 55, take happy hour by the pool, or have the concierge plan a perfect double date off-property. The Beverly Hilton is the perfect place to call home after a day of exploring everything from Rodeo Drive to the Hollywood sign.