My eyes slowly opened to the soft sounds of the wind. Confused and unable to place where I was, the fog of my peaceful night sleep began to clear as I took in the most calm, beautiful surroundings. I realized I had made it to the Sahara desert, one of my biggest dreams.
To be honest, it was even better than I expected.
I went on an incredible 4 night, 5 day journey through the Atlas Mountains. I met actual nomads, perused berber markets, ate more cous cous then thought healthy, I played the drums around a campfire underneath the desert stars. I learned how to tie a turban, how to properly pick dates, and learned the real meaning of trusting and letting go. This trip was absolutely once in a lifetime and will stay with me for the rest of my life. From the friendships that were built, to the amount of jaw-dropping moments shared. This journey was truly one for the books.
Day 1 & 2: Marrakesh
Where We Stayed: Riad Anabel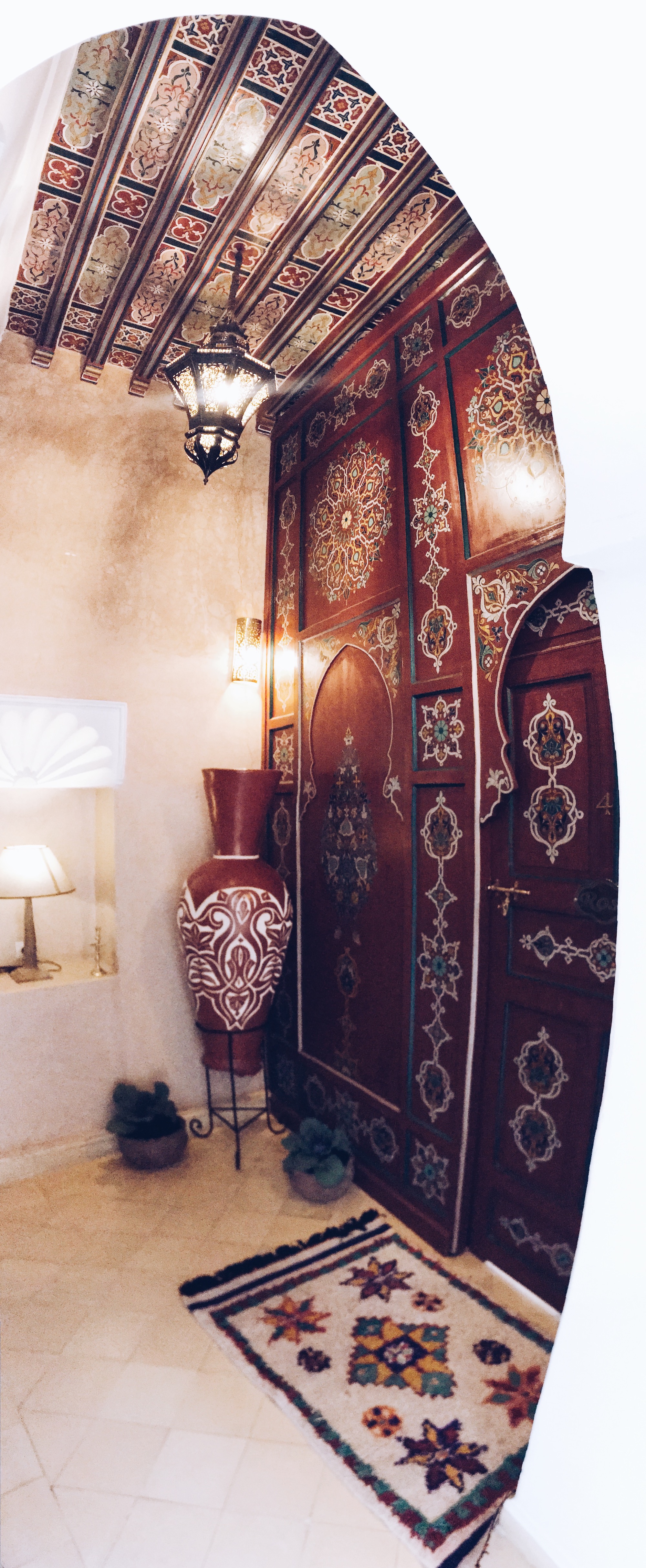 Riad Anabel:
Upon arriving at the Riad Anabel, I was amazed at how quickly I relaxed and felt at home. The rooms are well appointed, the staff is beyond accommodating, and the location couldn't be easier to get to. This is a great, and inexpensive place to call home during your explorations in Marrakesh, also the food here is to die for… see below.
Our first night in the Riad we ordered dinner on the terrace and oh my god did they deliver. One of the best chicken with olive and lemon tagines, the most addictive honey-almond salad, with spicy grilled vegetables, and fresh bread. I was in absolute heaven. Their breakfasts here are also unbelievable and are included in the price of accommodation! #thedream
We left Marrakesh in the morning and hit the road towards the Atlas Mountains. I personally have never been anywhere in Morocco besides Marrakesh, so I had no idea where we were actually going or what to expect. As our elevation slowly climbed, each twist in the road brought new elements and landscapes that served as the backdrop for our road trip. We stopped at the Todra Gorges, a breathtaking hidden valley in the middle of the mountains. Fresh water was running between the high rock formations and nomads who lived in caves and mountain ranges over five hours walking gathered to collect their weeks supply from the spring.
We listened to their journeys, played with their children, and offered dates as a gift for them and their families. These wild spirits were ACTUALLY nomadic, and they lived everyday to the best of their ability. It was truly inspiring, especially considering every instagram-travel-blogger loves to call themselves a nomad… how different the true meaning of this word really is.
Where We Stayed: Chez Pierre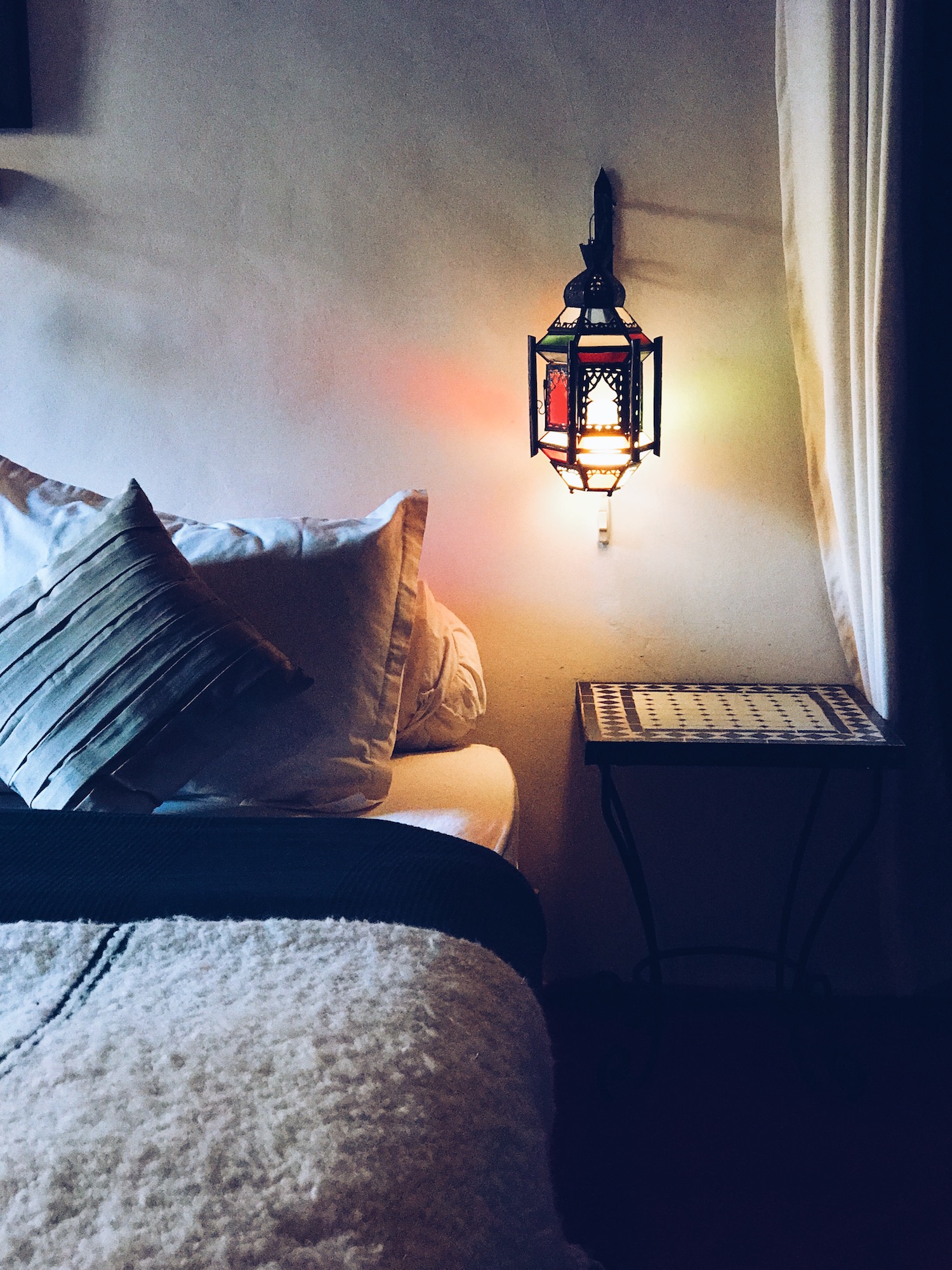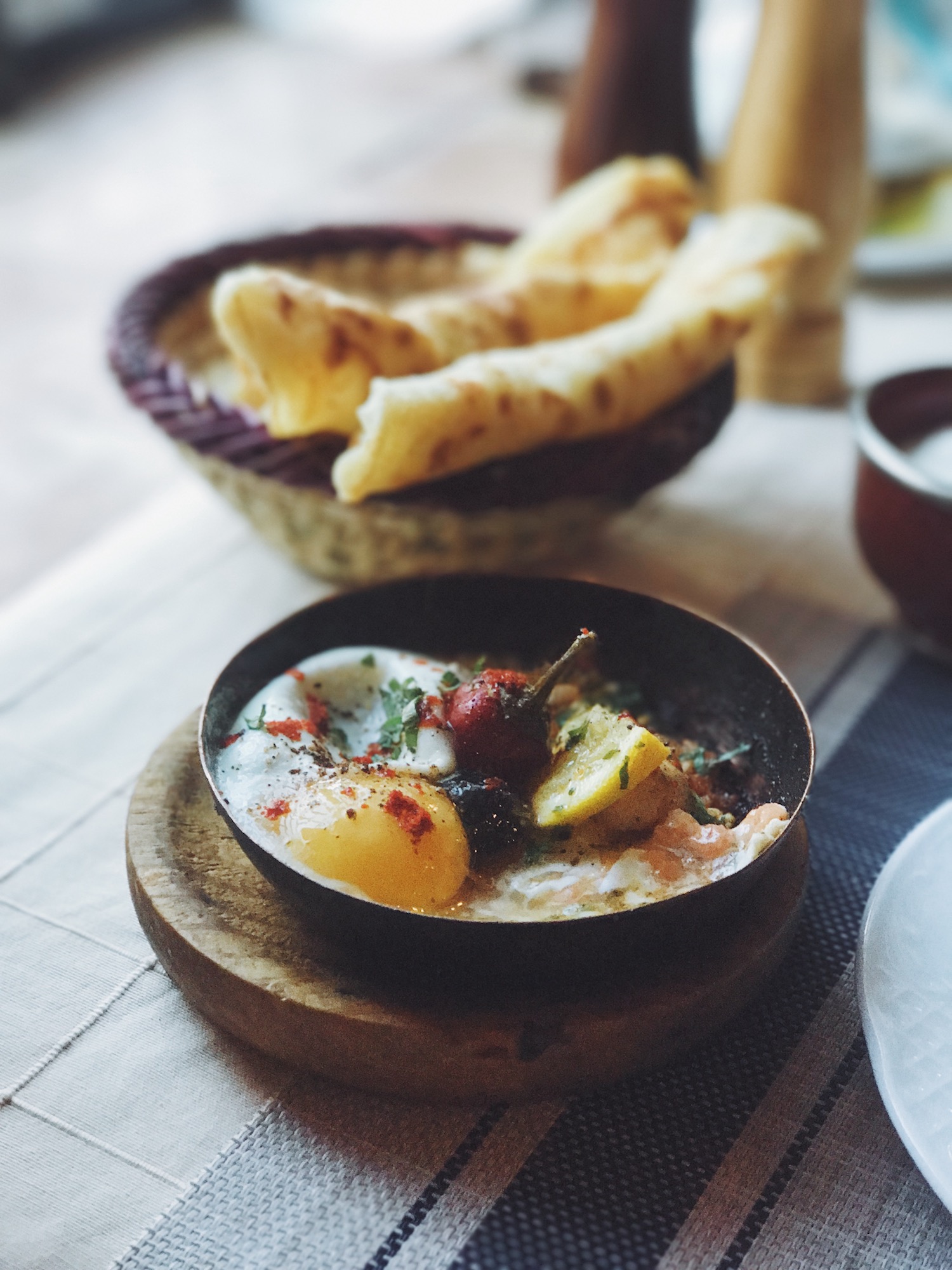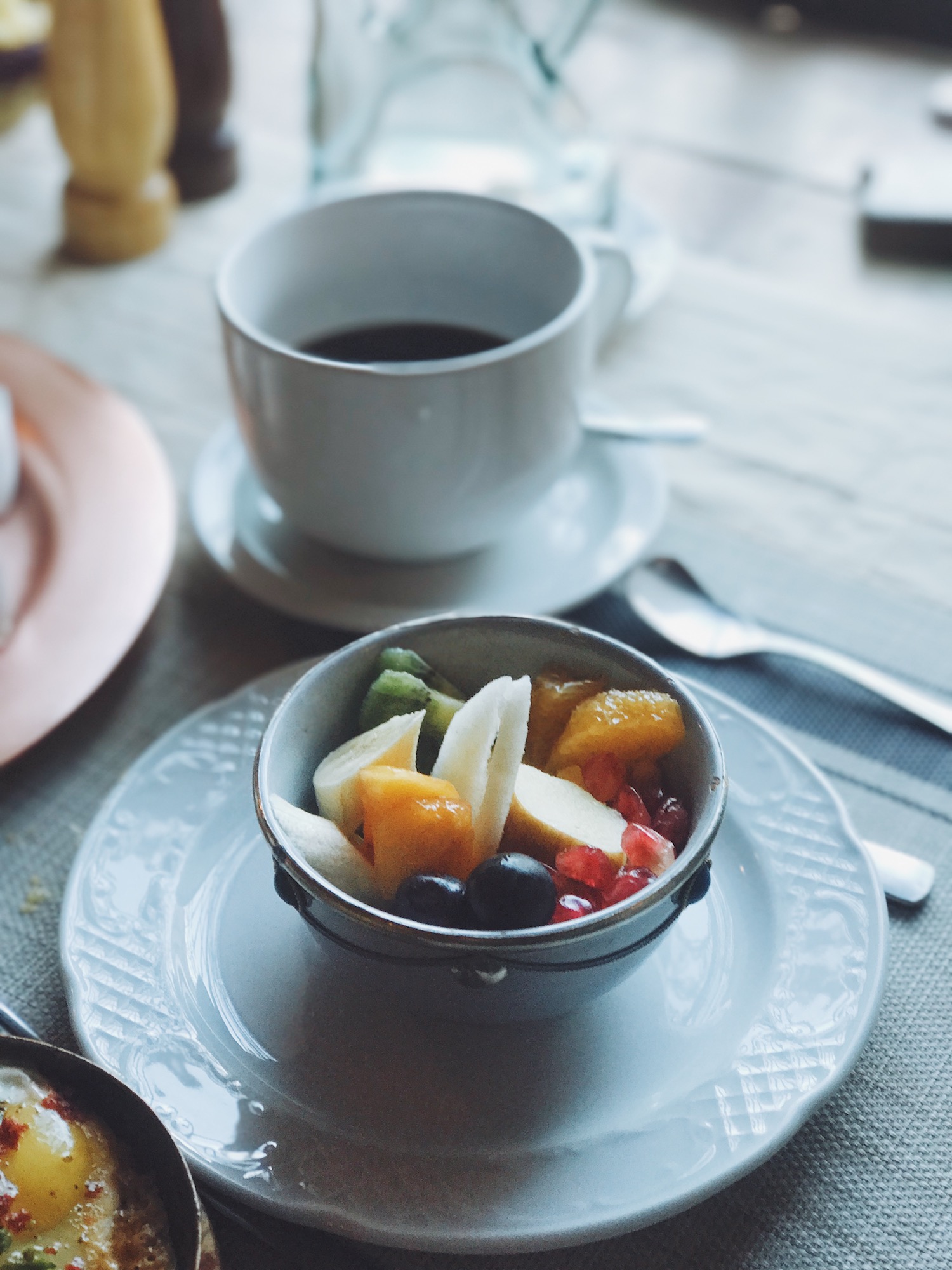 After a long day of walking and exploring I found myself drifting to sleep in the car on the way to our hotel for the night. As our car slowly came to a stop, my heart leaped into throat as I saw the large, torch-lit hillside Kasbah that proudly stood before us. The Chez Pierre was this perfect blend of what felt like an upscale ski-chalet and a rustic-boutique hotel in one. The chef prepared a knockout four course meal that was complete with live music and authentic entertainment (sometimes a rarity in tourist driven places).
In the morning, I pulled back the heavy wool berber blankets and slowly crept to the window where the light was seeping through the gauzy curtains. I screamed when I saw the view. Our balcony let out to 360 views of the entire mountain range. Needless to say, this hotel is a gem in all aspects of the term.
After a delicious breakfast at the Chez Pierre we continued our journey onward. We wound through the mountains, stopping through Ouarzazate (the Moroccan Hollywood, where all the movies are filmed) for lunch and continued through the day. We drove through palm groves... where I demanded we stop to purchase more dates, as I'm not so secretly addicted to their sweet, nutty flavor. We visited a family-run shop where we purchased Djellaba's and learned how to tie turbans. Outfitted for the desert we made our way onto the final highway. Until…
I SAW IT, WE HAD ARRIVED.
The sun was about to set and the red sand was blowing in spirals off in the distance. Mounds of sand stood like mountain peaks. We threw our bags into a pickup truck and began to drive up and down, surfing the dunes of the Sahara. I stared out of the window in complete shock, I felt like I was in a dream or an amusement park of some kind. It was a scene out of Aladdin, it was everything I thought it would be. Then, we stopped. We jumped out of the car and the warm, soft sand hit my feet. I thought of all the sand in all the beaches I've seen... yet this somehow meant the most to me. Naturally, we cracked open a few beers, took in the magical sunset from the top of a dune and eventually sauntered blissfully over to our camp.
Where We Stayed: Luxury Glamping
In my (#blessed) life, I've had a fair share of "glamping". From burning man RV's to Coachella TeePee's. But nothing comes remotely close to what was waiting for me just over the last red sand dune.
This camp was beyond five-star. Full electricity, outlets, a fully functioning bathroom with flushing toilets! I was in shock. The tents, bedding, even the mattresses felt like I was in a suite at the Plaza Hotel, yet just outside the door sat one of the biggest wonders of the world. The camp is thankfully quite small, only 4-5 other tents like ours and one "restaurant" tent. We ate in the "dining area" and I just sat there with my mind blown as I casually sipped on my lentil soup.
After dinner we all gathered around a large bonfire pit. We told jokes, played the drums, and danced wildly under the stars and the moonlight. We slept like babies and woke up in time to welcome the sunrise over the desert. After breakfast we explored the area, played around in the sand until eventually we saw camels off in the horizon. We each packed our suitcases, mounted our camels, and made our hour and a half journey back to civilization.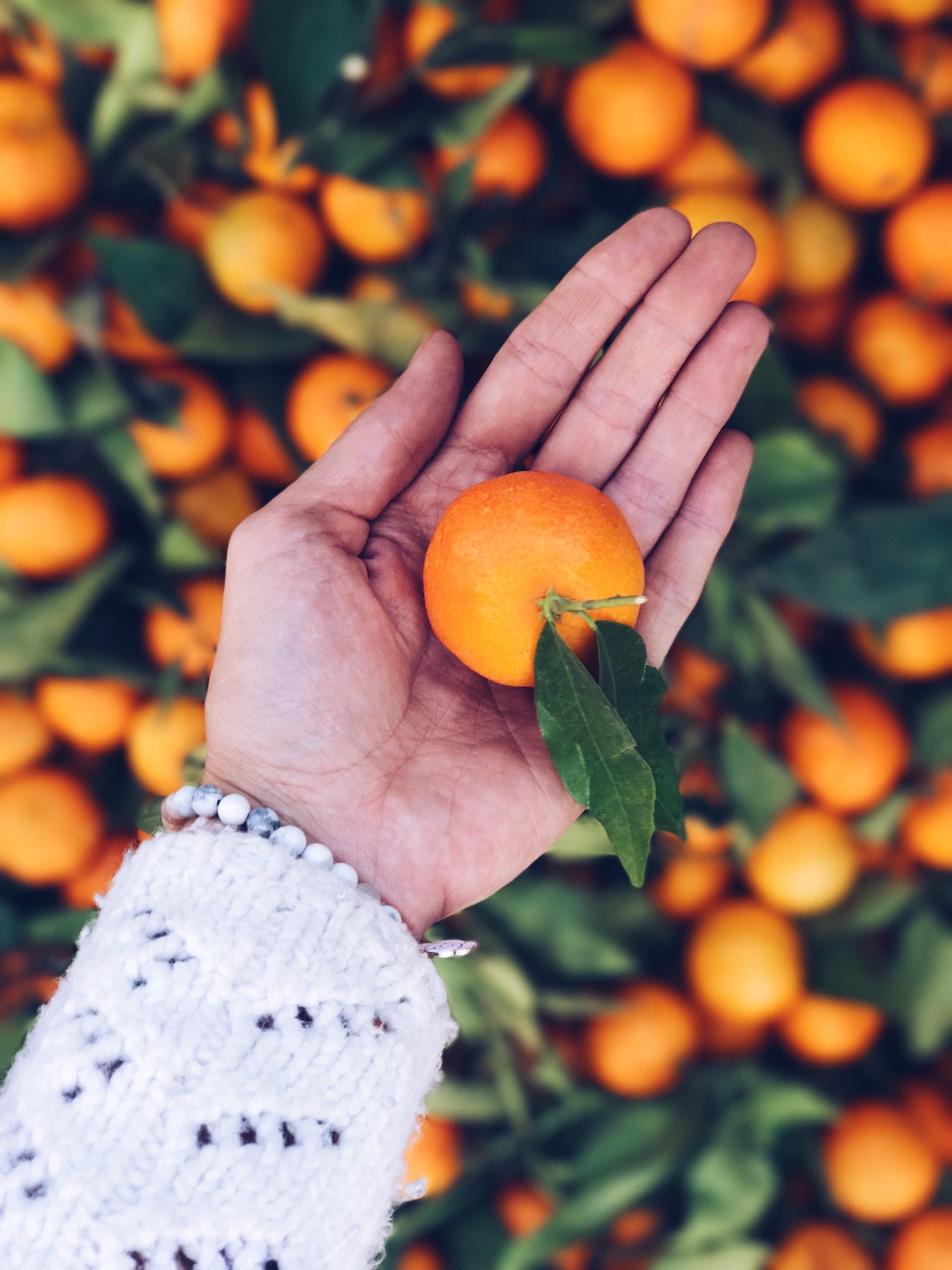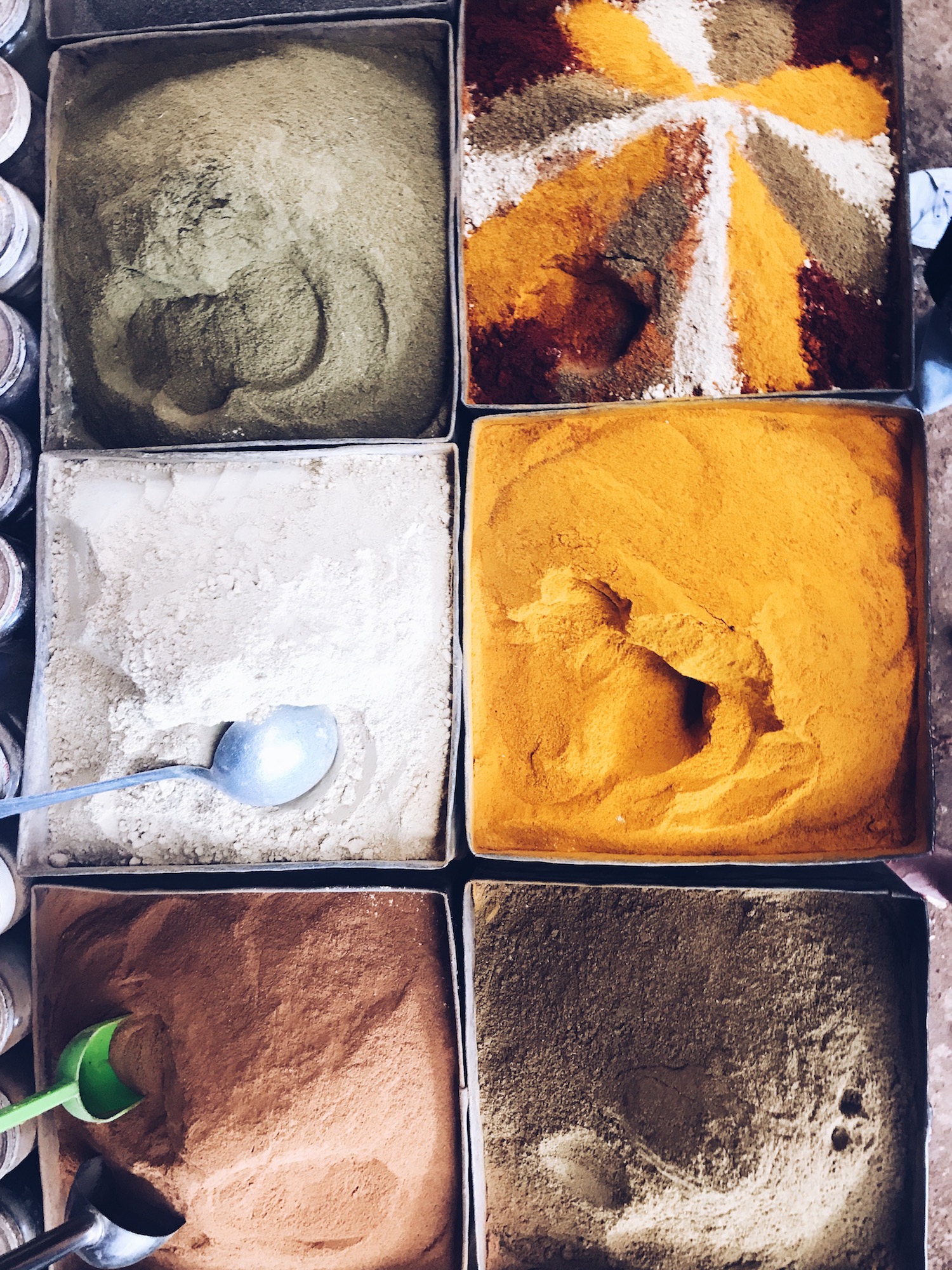 After our time in the Sahara we made our way back through the Atlas. On our way to Ouarzazate we stopped in one of the small villages as there was a huge local market that day. We walked around as farmers unloaded their produce, livestock, and anything else they'd been growing back where they're from.
It was at this market that I realized we were the only tourists in sight. Which to me is an extremely incredible feeling, because I know it's authentic. This is their way of life and we were just lucky enough, because of our guides, to be able to experience it.
Where We Stayed: Dar Chamaa
Later on that evening we arrived at a hotel just outside of Ouarzazate. It was super chic and modern with high ceilings and a beautiful outdoor pool. We ordered wine as room service, put on face masks and full absorbed all that we had just experienced in the last few days. The hotel in the morning was bustling and beautiful. Breakfast had plenty of options and the room we stayed in was exceptionally comfortable. Defintely recommend!
Day 6 Ait Ben Haddou & Marrakesh
On our last day we headed over to Ait Ben Haddou and had an absolutely wonderful time exploring this extremely large group of Kasbahs. We drank tea overlooking the village, watched as local artists painted with saffron, tea, and fire, and ogled at the many tapestries and handcrafted delicacies for sale within the Kasbah walls.
Later on our drive back to Marrakesh we stopped at another amazing yet abandoned Kasbah. After forgiving it's ratty exterior you would find rooms that had some of the most intricate interior design details. Absolutely fascinating!
Overall, this trip was one of the most eye-opening and inspiring journeys I have ever been on.
At first, I was nervous about having done little to no research about where I was going. Everyone in America seems to overreact and make such a big deal out of the supposed "dangers" of traveling to a country like Morocco. But I can say with absolute honesty I never ONCE felt uncomfortable, threatened, nervous NOTHING. The guides know what they're doing and every single person we encountered on our trip was nothing short of warm and hospitable.
The team at Morocco Holiday Packages are attentive, proactive, well-networked, and overall incredibly genuine and kind people. They're the reason this trip was as successful as it was and they're prices are incredibly affordable. This trip has absolutely something for everyone and is a must to tick this off of your bucketlist. More information on how to book this trip below.
Big thanks to my now Moroccan family... cant wait for our next adventure!