After traveling to some of the best wine regions in the world including: Tuscany, Bordeaux, Burgandy, Stellenbosch, and Rioja… It's hard to believe anything can come close to the scale and history behind these far away vineyards. Yet the combination of incredible farm to table restaurants, quaint boutique hotels, and a robust award-winning wine scene in our own back yard makes Napa Valley region absolutely worth the trip.
I flew straight into San Fransisco, rented a convertible Jaguar on Turo, and embarked on a whirlwind, romantic weekend getaway through our countries own iconic wine destination. Below is my guide to doing Napa Valley in style.
Where to Stay:
Bardessono Hotel and Spa
Just ten miles north of Napa, you'll find the modern, warm, and welcoming oasis of Bardessono Hotel and Spa. Placed perfectly in the quaint town of Yountville, it thrives by providing an exclusive escape while also remaining environmentally conscious.

The service and privacy at Bardessono allow you to feel miles away from the more congested parts of the Napa area, yet some of the regions best restaurants and wine bars lay just outside the hotel doors.

The rooms in this "green" hotel more closely resemble luxurious apartment complexes, complete with gas-fireplaces, whirlpool jacuzzis, and outdoor patios with private rain showers. The amenities are as vast as they are tech-savvy. From windows that automatically shade after leaving the room, to two large flatscreen smart TV's on opposite sides of the suite, allowing you entertainment from every angle.

Complete with a lap pool, farm to table restaurant, and spa treatments that can be scheduled in-suite, Bardessono is truly one of the best places to call home for your next wine country jaunt.
Stepping up onto the cobblestones towards the long pool, one would guess that they're at a private estate in the depths of Tuscany. Yet the Hotel Yountville blends modern hotel amenities with rustic farmhouse vibes in the heart of Napa Valley. Each room feels like it's own cottage, complete with jacuzzi tubs, fireplaces, and flatscreen TV.
With an incredibly attentive staff and nightly wine happy hours this boutique hotel quickly sets in as a perfect home away from home. Copper accents, large timber beams, and Napa river rocks create a warm and inviting ambiance that complements the natural scenery. Hotel Yountville is also walking distance to some of the finest restaurants and wine bars in the region. This oasis is as quaint as it is private, making this a perfect place to bunk on your next trip to wine country.
Lucy Restaurant
After a beautiful tour through an on-property garden, it became quite clear that the cultivated dishes at Lucy are not only crafted from what's growing around them but truly embodies a wholesome "field-to-fork" mentality.

The wonderful thing about this quaint restaurant is the variety. Not only do they have options for the red-wine-drinking "meat lovers", they also offer some of the freshest seafood in the area. Nurturing close relationships with all local vendors from lamb to dairy farmers, you are guaranteed to get the freshest ingredients and vino from the prosperous land around you.

Opt for their classic hand rolled gnocchi in a kale-tartufata pesto, or try the opulent figs and foie gras, complete with brioche prosciutto and a basil meringue. Pair these delicious delicacies with a wide array of wine from their grand list and indulge in the flavor, texture, and variety that makes Lucy a truly fantastic place to dine.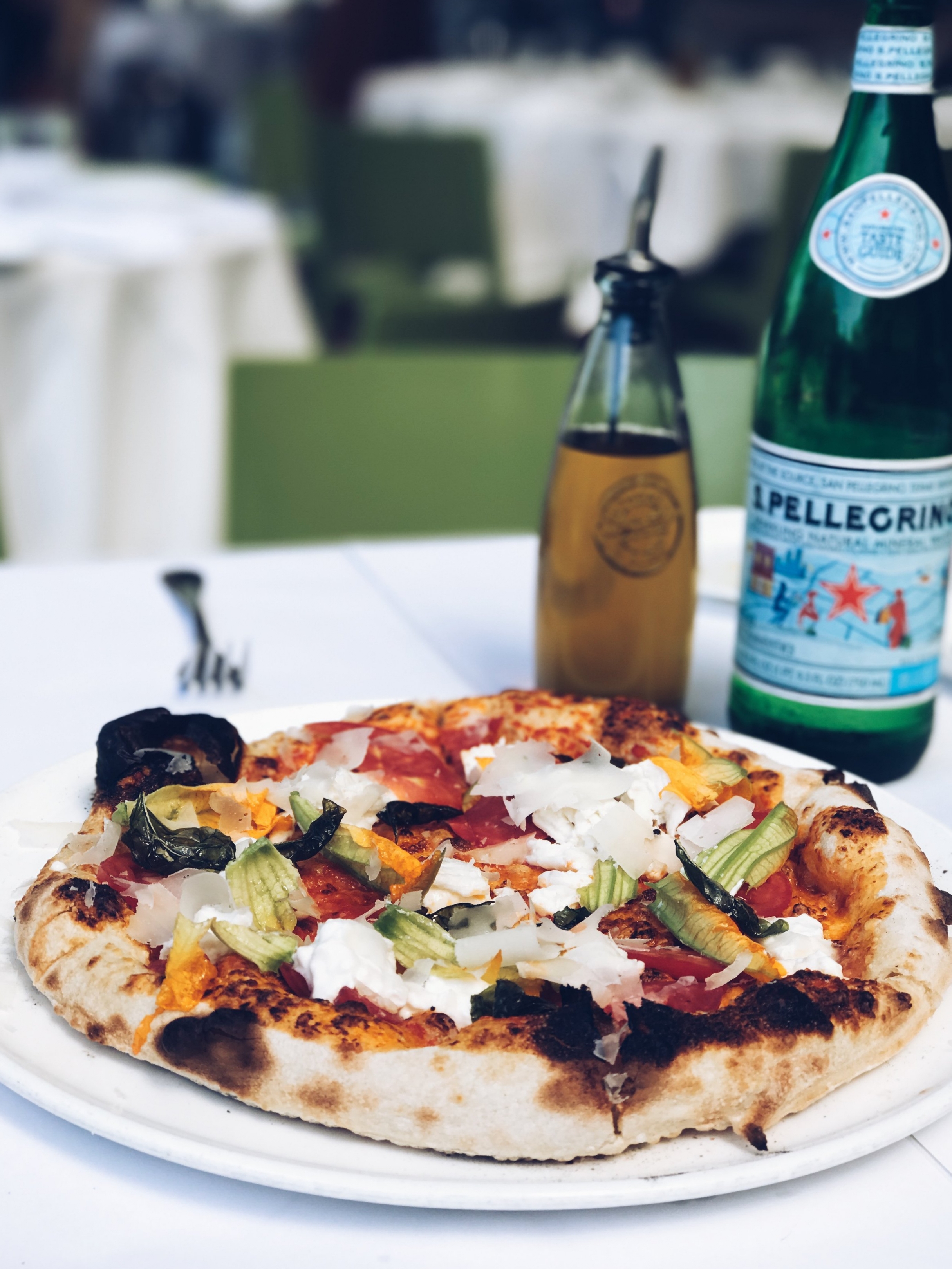 Bistro Don Giovanni
An Italian haven-away-from-home is just one way to describe the dining experience at Bistro Don Giovanni. This destination evokes the feeling of being at a summer country home with an airy terrace resembling that of the Mediterranean. The bistro is a seasonal friendly restaurant that offers a handcrafted menu, serving freshly baked breads and homemade pastas and pizzas, along with daily specials that are cultivated from Napa Valley's local farms.
Select choices from the wood-burning oven from the classic Margherita to their heirloom and squash blossom pizza. In Winter months, guests can still enjoy dining under the stars next to the fireplace on the enclosed terrace. The local wine selection and signature cocktails such as the Bistro Negroni complement the many flavors from the ever-changing menu. In Summer months, dining alfresco makes for an extraordinary experience alongside the sprawling gardens and vineyards.
Wine Train
There is nothing quite like the nostalgic sounds aboard a 1919 Pullman train car as it passes romantically through the vineyards of Napa Valley. Sipping champagne and devouring a deconstructed eggs Benedict we began our Collective Tour aboard the Napa Valley Wine Train.
With hardly an planning, driving, or researching involved there is honestly no better way to experience all that the wineries of the area have to offer. All of the itineraries are organized for you with luxury air-conditioned coaches bringing you from the train to each vineyards doorstep.
On this thoughtful journey, you will visit some of the most well-known and sought after wineries in the area. After each tasting, you are greeted back on the beautiful mahogany train by a new epicurean course. From breakfast and lunch, to cheeses, refreshing snacks and dessert this gourmet element is exactly what is needed for a full day of wine tasting.
Jordan Winery and Estate
Everyone has their opinions on which vineyards to visit when touring the wine country in Napa Valley. With so many options to choose from, not to mention the multitude of new and emerging regions, the selections can often be dizzying. There is however, one estate that goes far beyond your basic tour, taste, and spit (or if you're like me gulp, gulp, gulp).
Nestled in the hills of Healdsburg, in the Alexander Valley, lies the Jordan Estate and Vineyard. This vast yet robust property, complete with acres of grapes, goats, cattle, olive groves, lakes, and gardens is an oasis of flavor, texture, and variety. Focusing on agriculture, conservation, and hospitality... Jordan Estate more closely resembles a chateau in France thanks to the original fascination and dedication Tom and Sandy Jordan had with their favorite region, Bordeaux.
This also explains why Jordan Winery only produces Cabernet Sauvignon and Chardonnay (with Champagne made offsite). The family only went into business once they had found a winemaker who could properly replicate their favorite Bordeaux blends.
Jordan Winery offers a small variety of tours that are interactive, personal, and multi-dimensional. From library tastings to a fully immersive estate tour, there is plenty to explore, taste, and savor.