For as long as I can remember, I have visualized what it would be like to go on a real African Safari. Whether it was the fascination with the Jungle Cruise or my love for The Lion King it has been on my radar and bucket list for some time. I would imagine bouncing around in the back of a jeep, wildly gazing over the horizon trying to spot the big five. And while I truly had no idea what to expect, I knew that my trip to northern South Africa was going to be an absolute dream come true.
As we boarded the small plane in Johannesburg, I finally heard the correct pronunciation of where exactly we were headed... Hoedspruit. Upon landing we were picked up by a bright young woman dressed in khaki and green. She grinned warmly as she grabbed our (ridiculously large) suitcases. We hopped into the back of the truck and began our journey to Camp Jabulani. Nestled next to the GIGANTIC Kruger Park (I later learned that park is actually around the size of Israel) lays a private game reserve called Kapama.
We bounced around iconically in the truck like Ace Ventura, and Julia caught my excited eyes in the rearview mirror.
"Anything in particular you're dying to see?"
As I was about to answer like a wide-eyed child, a tower of giraffes (that's right, I also learned a group of giraffes is called a tower) quite literally towered over the car as they crossed our path... mouths full of shrub. She chuckled to herself, as myself and Maira jumped up in awe at what would become a very regular occurance.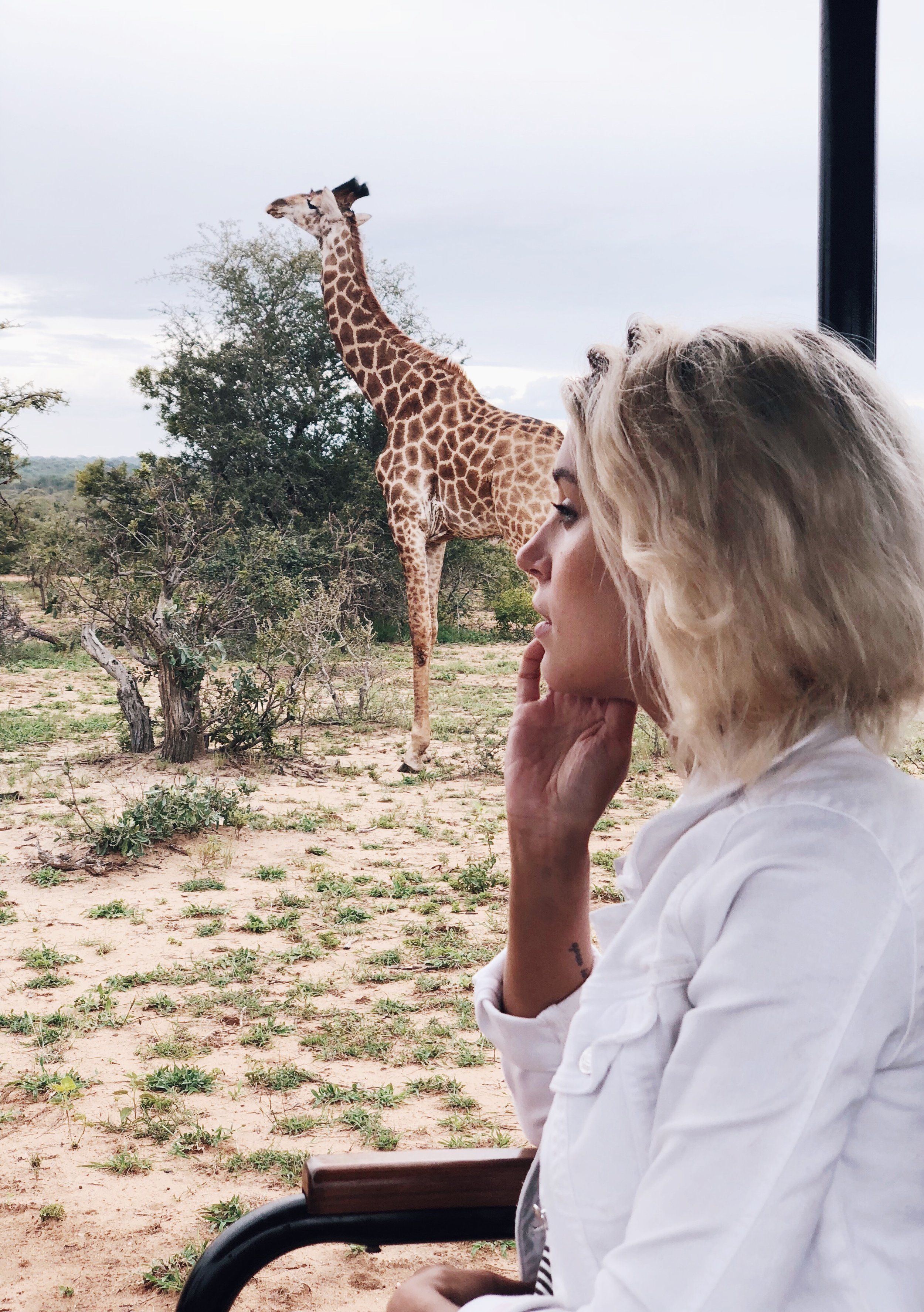 The Experience
Now I have never been one to enjoy waking up early. Yet when you're on a national reserve in the middle of Africa, with wild animals to see... somehow that 5:30am wake-up call just doesn't feel as painful. We bundled up in the early morning haze just before sunrise waiting for the knock at the door. Waiting patiently outside our villa was our fabulous guide Andre, ready to escort us to the open-air Land Rover. As the hotel is situated on an open reserve, from dusk till dawn you must be escorted by a guide due to wild animals that can and do roam the property.
During our morning game drives we would spot prides of female lionesses roaming their territory. We'd find zebras, warthogs, and impalas harmoniously grazing the grassy knolls in the morning sun. Hippos wiggling their ears and cackling from the depths of the ponds served as the backdrop as we'd round the corners of the winding trails. Three fat male lions that lay motionless in the shade of a nearby tree… bellies swollen, in an obvious food coma from a recent kill.
All of the sightings felt unreal.
So much to see and it was only time for our morning coffee break with curious monkeys peering down from the treetops overhead.
On our second day we went on an adventure to the HESC or the Hoedspruit Endangered Species Center. This was a beautiful facility dedicated to the sustainability and conservation of rare or endangered animals including Rhinos, Cheetahs, Leopards, Elephants and more. It was fascinating to learn about cheetahs including their bone structure, speed, and even breeding process. As well as the science behind how orphaned elephants need to be reintroduced to a herd slowly over time. We also learned about how hip problems can plague the king of the jungle through bad inbreeding.
The Elephants
I find elephants to be one of the most majestic animals on the planet. With an unbelievable memory, these intellectual and social creatures embrace a matriarchal lifestyle that runs on the strength of their close family bonds. It's so hard to believe anyone would want to harm or mistreat such a gentle giant. Yet you don't need me to tell you about cruel people in the world that use these animals for a quick buck, an attraction.
While the beautiful elephants at Camp Jabulani do attract attention, this is not the reason they are in Kapama under the watchful eye of their grooms. It all started with an abandoned baby bull they found starving and alone in the mud on their reserve. The owner of the HESC and Camp Jabulani, Lente Roode hand-reared the near-death four-month-old slowly back to health.
They named the baby elephant Jabulani, meaning rejoice in Zulu. After months of rehabilitation, the team at the HESC tried methodically reintroducing Jabulani back into his native herd. After multiple failed attempts, it was clear this elephant would need the support of their team to try and give him a normal life.
It wasn't until Roode caught wind of a hostile situation involving twelve elephants in Zimbabwe that the heard currently at Jabulani was formed. The twelve elephants were abandoned due to the increasing political and economic termoil that was unfolding in the neighboring country. Again Roode rescued the animals, as they were a prime target for their ivory tusks. Now a herd of almost 20 elephants live happily near the site of Camp Jabulani. The resort offers a unique interaction with Jabulani and the largest bull Sembakwe, that thankfully doesn't involve any tricks, gimmicks or riding. It truly is such a beautiful way to interact with this enormous animals.
The Camp
This colonial-style camp is beautifully appointed with rich tapestries, authentic African decor, and thoughtful design. The main lodge is the perfect place for a glass of chardonnay and cheese plate in between game drives. Their small lagoon is full of active marine and bird life to entertain you during your indulgent morning breakfasts. The villas are spacious and luxe… with natural wood burning fireplaces, private plunge pools, and clawfoot tubs. Retire into your luxurious bed each night for a full nights sleep before the activities commence in the early morning.
The culinary experiences at Camp Jabulani truly elevated the entire experience. With unthinkably romantic settings, flavorful and local delicacies, and extreme attention to detail the nightly dinners gave the morning game drives a run for their money. For our first meal, we were led through a labyrinth of trees, down a small path speckled with candles that eventually opened up to a wonderfully romantic, fire-side Braai (a traditional South African cookout). The rich South African Pinotage paired perfectly with their tender and perfectly cooked Kudu… all taken in with the sounds of the wild echoing just beyond the moonlit lagoon. Beyond magical.
Camp Jabulani is one of those needle-in-a-haystack resorts that fully embodies the meaning of premium hospitality. From the knowledgable and extremely dedicated rangers to the chefs, massage therapists, and butlers… no request is too small, no question too silly.
This is more than a resort. This is your home, your extended family, your safari.